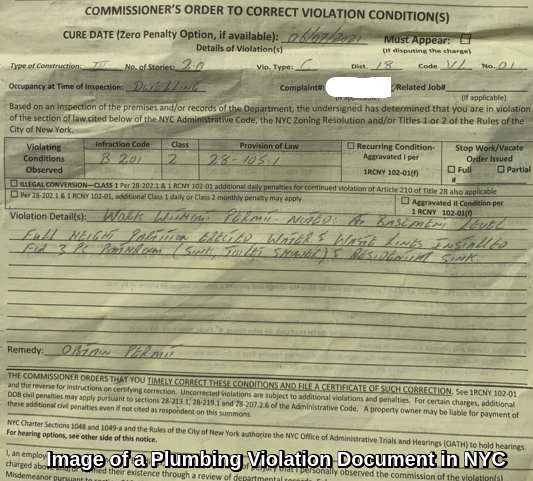 ECB and OATH
: An Overview
The Environmental Control Board, also known as ECB, is often used interchangeably with OATH to indicate building violations.In the acronym OATH, the Office for Administrative Trials and Hearings is referred to. In addition to a summons, you'll receive a hearing date once you are found violating the OATH.
ECB/OATH Plumbing Violations Removal
Correcting ECB/OATH Plumbing violations requires three steps.
Suppose you receive an Environmental Control Board (ECB) violation from the Department of Buildings (DOB). In that case, you must correct the violating condition promptly and submit the documents for proof of compliance.
ECB infractions of Class 1 (immediately hazardous) should be corrected immediately. If the immediately hazardous condition is not resolved on time, you may be charged $1500 for the DOB violation. You may also be charged for a Department of Buildings civil Penalty.
ECB violations removal
ECB violations removal is made easier by utilizing the services of a licensed Master Plumber. They will file with the ECB for its removal on your behalf. They will meet with the relevant official to understand the violation and then get the correction certified with the department. An inspection by the respective official is needed to certify the violation has been removed.
Clear ECB violations
To clear ECB violations conditions and submission of Certificate of Correction application to the DOB NOW BIS Options portal. It includes all the needed forms to correct violations like payment proof of all applicable penalties and any supporting documents like receipts, permits, inspection results, etc.
Failure to attend or send a representative may bring about penalties up to $25,000 depending on the summons.
OATH violations removal
Many people do not consider that quality of life violations can span a wide range of areas. Creating too much noise, not properly disposing of garbage, and not having a valid business permit could get you a ticket. Municipal code violations are handled by the Office of Administrative Trials and Hearings (OATH).OATH conducts hearings for summonses issued by an extensive list of New York enforcement agencies.
ECB court hearings
The Environmental Control Board ("commonly referred to as the "ECB") and the Office of Administrative Trials & Hearing – Hearing Division together ("OATH/ECB") is NYC's largest administrative court that conducts hearings on violations and summonses issued by City agencies.
If you want to challenge the violation, you always have the right to a hearing at ECB Court. If you wish to be represented at the hearing, that is your choice, but it is not mandatory. To substantiate a defense against the violation, you may present witnesses or other evidence. A judgment will be mailed to you after the hearing by the Administrative Law Judge..Give John Farr a call today if you need master-licensed plumbing to correct water line and gas line violations in your NYC building, including Manhattan, the Bronx, Staten Island, and Queens. Those who require repairs within 24 hours can even have the most serious violations handled by him.
For assistance with your ECB/OATH violations, illegal basement violations, gas company violations, gas boiler violations, or any plumbing building violations in NYC, call John Farr at 917-324-2535.