Natural gas service is essential to daily living, providing heat, hot water and/or cooking gas to both you and the other tenants in your building. In most cases, however, utility companies can shut it off due to an unsafe condition being detected.
Service Disruptions can arise for numerous reasons. Common examples are:
Gas Leaks – Gas leaks can be highly hazardous. Your landlord must post a notice outlining how to identify gas odors and respond if you suspect there may be a gas leak in the building.
Illegal Gas Piping Work – Any work on gas systems (for instance installing dryers) without first notifying the DOB can be illegal and hazardous, potentially incurring fines and disruption to service in an entire building.
Under these dangerous conditions, top priority is your safety. DOB or the Fire Department can refer you to a utility company to temporarily turn off gas service for cooking, heat or hot water usage; property owners are then expected to make any necessary repairs immediately to restore service for cooking, heat or hot water use.
If your gas meter has been shut off in NYC because the New York City Department of Buildings (DOB), Fire Department or your utility company discovered either a leak or illegal gas work that created an unsafe condition. Restoration can take time depending on various factors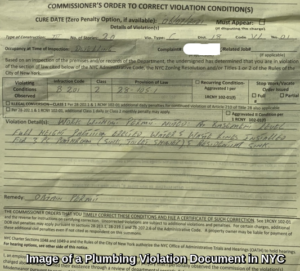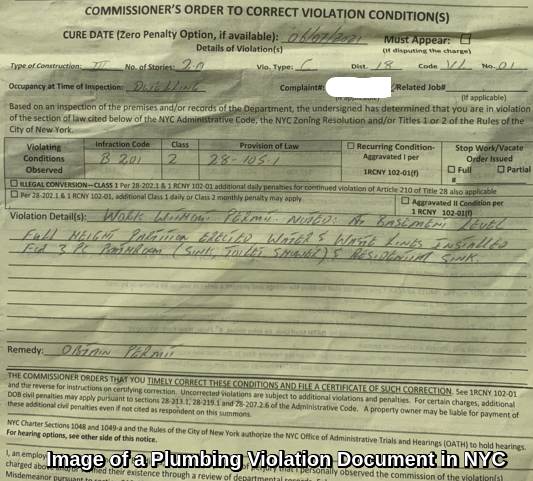 What happens next?
In order to restore gas service on their property in NYC, property owners must hire a Licensed Master Plumber (LMP) like John Farr. Once hired, John will file an EWN or LAA application with DOB so work can begin in order to restore gas service. Emergency Work Notification (EWN) and Limited Alteration Applications (LAA) permits can be submitted without needing DOB review. EWNs inform the Department of Buildings about urgent work that requires immediate attention, while LAAs describe changes that require more consideration by DOB than usual. An EWN alerts DOB that emergency work is being completed right away.
Once a project has been identified, the next step should be filing an LAA permit in order to complete it. Once complete, LMPs will complete the neccessary paperwork through DOB NOW, and get gas authorization.
Should you attempt to turn the gas back on in your house?
NO! Never attempt to tamper with any gas line or fixings yourself after it has been shut off by the Company, this needs to be turned back on ONLY by the Gas Utility Company.
Do you have to pay if you have a gas leak?
The two gas companies in NY whis is National Grid and Con Ed come out for free if you call them. Shoud they see anything wrong and lock you off then you will need to contact a NYC Licensed Master Plumber like John Farr.
Who Should Pay to Fix a Gas Leak?
Gas utility companies is responsble for the gas up to the gas service valve, the homeowner is responsible for everything after that main service valve.
Correcting any Gas Violations with John Farr
If you do find yourself getting a gas violation and having your gas meter turned off, John Farr can help. He has more than 30 years of experience in helping small and large residential buildings clear their DOB violations so that they can keep their Certificate of Occupancy and avoid huge fines for not repairing the problem in a timely manner. He can pull the appropriate permits, perform emergency repairs for violations that must be corrected within 24 hours and provide you with all the documentation and pictures you need.
For assistance with your OATH violations, illegal basement violations, gas company violations, gas boiler violations, or any NYC Department of Buildings plumbing violations in NYC, call John Farr at 917-324-2535.